After a year of elevating fashion, Vogue Philippines traces the Filipino roots for a story of kinship, heritage, and creativity. 
A big LED screen flashing a countdown timer leaves audiences in excitement during the Vogue Gala 2023 at the Grand Ballroom of Shangri-La The Fort, BGC. Led by Editor-in-Chief Bea Valdes, hundreds of guests and the most iconic fashion personalities stood, waiting for the reveal of the title's anniversary issue. After the last second drops, all eyes led to the stunning September issue.
This time, three important muses that represent artists and artisans, makers and muses, took the spotlight: Jo Ann Bitagcol, a veteran of the fashion industry, photographer, and creative director of her own clothing label; Rina Fukushi, a Japanese-Filipino model gracing the catwalks of Bottega Veneta, Chloe, and Miu Miu; and Lukresia, a queer model and designer from Cebu, scouted to walk for Mugler after serving couture in the internet made out of scrap fabric and plastic wrap. 
The three, photographed by Sharif Hamza, posed against the breathtaking view of the northernmost province of the Philippines, Batanes. "In Batanes, we saw something of ourselves that we lost—our deep connection to nature, our spiritual kinship with one another, or perhaps all of the above: a way of living that gives to the world as much as it takes from it," Vogue Philippines Features Editor Audrey Carpio writes.
Donning sustainable high fashion in the highlands celebrates the craftsmanship of Filipinos. In the cover story, Carpio explains, "We're at a moment when the type of ingenuity that Filipinos have always possessed is being celebrated because it aligns with current values of circularity and sustainability. At the same time, the Philippines also claims an age-old heritage of weaving and traditional craft, using the raw materials of nature like abaca, rattan, and pineapple, even those that are considered invasive, like the water hyacinth. This, too, is part of our DNA."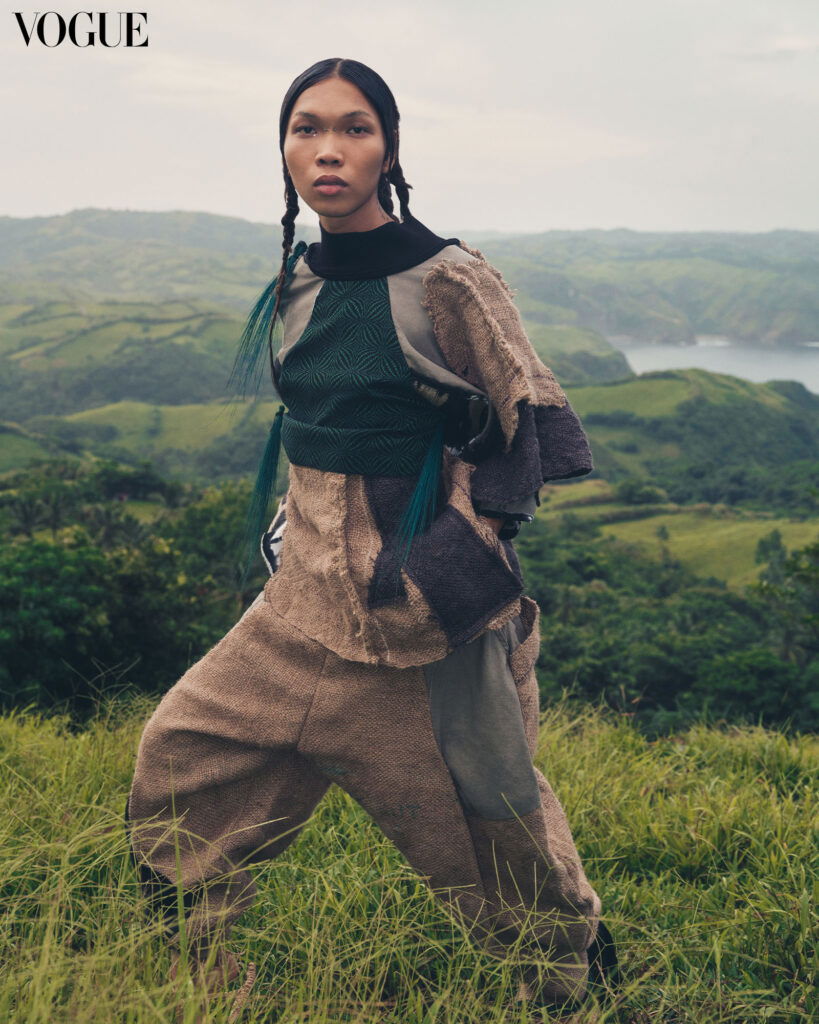 The anniversary issue assembles several Filipino designers with upcycling in their core. Featured in its pages and inside the Grand Ballroom itself as part of the exhibit are the works of Patricia Perez Eustaquio, who fabricated an outfit made of jute sacks inspired by the people of the Cordilleras; Jerome Lorico, whose twisted knit dress is weaved with local Ivatan utilitarian products; Leby Le Moria, with her handwoven basahan ensemble inspired from her family's rag business; and Neric Beltran, who uses recycled water bottles and black phalaenopsis orchids strings. 
For Vogue Philippines, these are just some of the stories behind the craftwork that fills these pages—each designer and collaborator has their own tale to tell. As they start on a strong note for another year, the fashion bible gears for another 365 days to provoke global conversations through the stories of fashion. 
Head on over to https://vogue.ph/magazine/origins-batanes-september-2023-cover/ for the full September cover story.