Billboard Magazine, the ultimate global media authority in the music industry, officially launches its Philippine edition on October 15, 2023 in Whitespace, Makati, in the presence of Mike Van, Billboard President, and Gurjeet Chima, Associate Vice President for International Markets of Penske Media Corporation, as well as top Filipino artists, representatives from record labels, and other guests from the music industry. Billboard Philippines will span across various multimedia platforms, from print and on-ground events to digital content that includes videos, podcasts, and social media.
"Billboard is the world's most influential music media brand with an unmatched authority among artists, fans, and the industry," says Anne Bernisca, Chief Operating Officer of Modern Media Group, Inc. "Billboard Philippines will create innovative multimedia content that transcends media value and uphold media excellence."
Billboard Philippines Magazine
As the latest edition of Billboard in Asia, Billboard Philippines unveils its debut print issue, the first of six volumes that will each be dedicated to a particular genre of music. The maiden volume is the Pop issue, which highlights not just one but two cover stars. The first is one of the most recognizable voices in the region, none other than Asia's Songbird and the country's Queen of Pop, Regine Velasquez. The second is the hottest group in the country today, taking the world by storm with viral hits and currently vying for a Grammy nomination for Best Pop Duo/Group Performance — P-pop trailblazers SB19.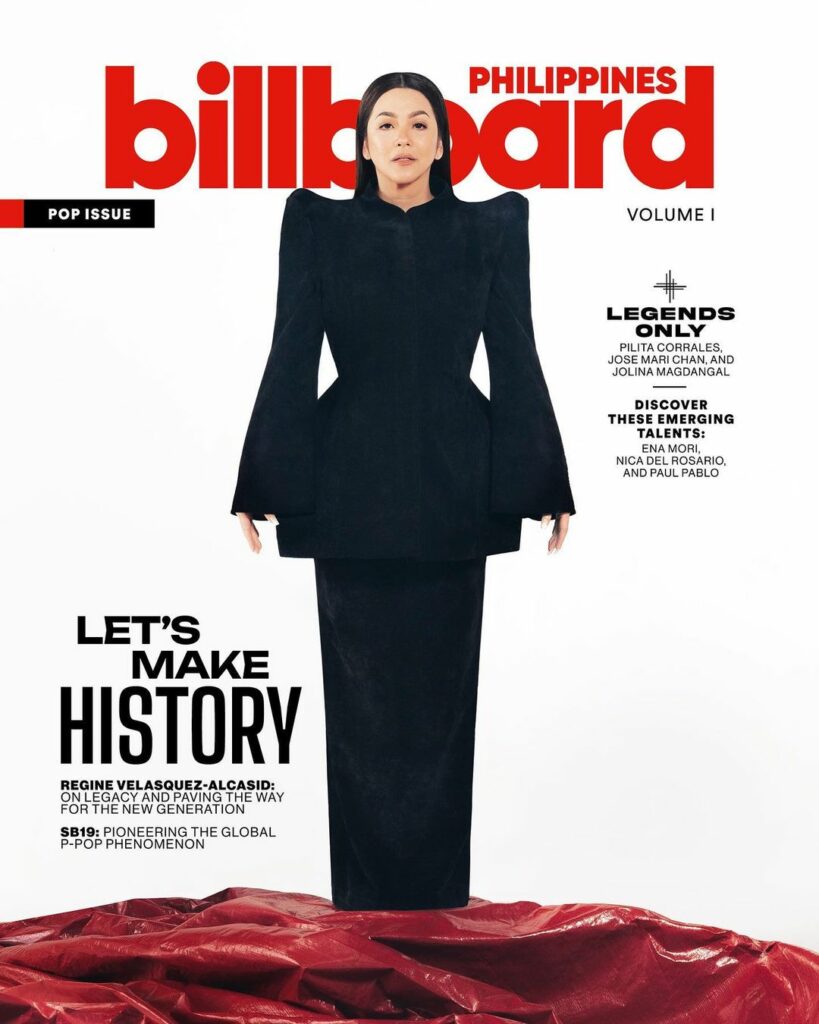 The print edition of Billboard Philippines aims to highlight the absolute best of Filipino music, with the cover story featuring the most relevant and influential artists at the moment. Its Discover section puts the spotlight on the freshest rising stars making a big impact on the industry, while the Rediscover section revisits icons, legends, and mainstays of the scene whose significance has endured to the present day. Each issue also contains curated profiles on tastemakers and key opinion leaders (Handpicked), articles on important music business developments and personalities (Market), chart-topping tracks and artists (Chartbreaker), as well as compelling culture and lifestyle features.
Billboard Philippines Website
Hand in hand with Billboard Philippines' print publication is the brand new website, billboardphilippines.com, which provides a platform for OPM (Original Pilipino Music) acts to be showcased worldwide via the recognized and respected global brand that is Billboard. Here, enthusiasts of Filipino music from every nationality can get the latest news on their favorite artists, discover up-and-coming talents making noise in both local and regional scenes, listen to the best new releases, catch up on industry trends, read about momentous concerts and other events, as well as other relevant, music-related content.
Billboard Philippines Media Channels
To provide a more holistic experience of Filipino music on a more visual, performative, and intimate level, Billboard Philippines also introduces its Media Channels, which will produce world-class, high quality video content to be posted across different platforms. The flagship show Studios is a YouTube series featuring the most sought-after hitmakers performing reimagined versions of their hits in an intimate live setting, allowing these songs to be rediscovered by fans. Soundwave is a series exclusive to Billboard Philippines' TikTok channel featuring performances by trending and chart-topping acts. Volumes is a Spotify podcast series that allows listeners to get up close with esteemed guests as they discuss themes like creativity, individuality, ever-changing trends, and topics relevant to the music industry. Finally, Handpicked will show selected artists answering several light-hearted questions. Guests at the official launch of Billboard Philippines have been given a preview of the debut episodes of each program, which will premiere on their respective platforms in the following weeks.
Billboard Philippines Charts
Of course, Billboard has always been the unequaled authority in music charts worldwide, and soon it will launch its own official Billboard Philippines music charts to provide the most definitive and comprehensive ranking of the hottest OPM tracks — an essential aspect that avid music fans and listeners will definitely anticipate on a regular basis.
Billboard Philippines
Billboard Philippines aims to amplify the power of music and to effect positive change to the industry and all music enthusiasts by providing a dedicated platform with meaningful content that promotes inclusivity, diversity, and global collaboration, thereby allowing discovery and rediscovery of music – especially from Filipinos – to become the foremost media authority that connects Filipino music and the world.
Facebook: Billboard PH (facebook.com/billboardphofficial)
Instagram: @billboardphofficial (instagram.com/billboardphofficial)
TikTok: @billboardphofficial (tiktok.com/@billboardphofficial)
YouTube: @billboardphofficial (youtube.com/@billboardphofficial)
X: @BBPHOfficial (twitter.com/BBPHOfficial)
Threads: @billboardphofficial (threads.net/@billboardphofficial)