After a year of elevating fashion, Vogue Philippines traces the Filipino roots for a story of kinship, heritage, and creativity. 
A big LED screen flashing a countdown timer leaves audiences in excitement during the Vogue Gala 2023 at the Grand Ballroom of Shangri-La The Fort, BGC. Led by Editor-in-Chief Bea Valdes, hundreds of guests and the most iconic fashion personalities stood, waiting for the reveal of the title's anniversary issue. After the last second drops, all eyes led to the stunning September issue.
This time, three important muses that represent artists and artisans, makers and muses, took the spotlight: Jo Ann Bitagcol, a veteran of the fashion industry, photographer, and creative director of her own clothing label; Rina Fukushi, a Japanese-Filipino model gracing the catwalks of Bottega Veneta, Chloe, and Miu Miu; and Lukresia, a queer model and designer from Cebu, scouted to walk for Mugler after serving couture in the internet made out of scrap fabric and plastic wrap. 
The three, photographed by Sharif Hamza, posed against the breathtaking view of the northernmost province of the Philippines, Batanes. "In Batanes, we saw something of ourselves that we lost—our deep connection to nature, our spiritual kinship with one another, or perhaps all of the above: a way of living that gives to the world as much as it takes from it," Vogue Philippines Features Editor Audrey Carpio writes.
Donning sustainable high fashion in the highlands celebrates the craftsmanship of Filipinos. In the cover story, Carpio explains, "We're at a moment when the type of ingenuity that Filipinos have always possessed is being celebrated because it aligns with current values of circularity and sustainability. At the same time, the Philippines also claims an age-old heritage of weaving and traditional craft, using the raw materials of nature like abaca, rattan, and pineapple, even those that are considered invasive, like the water hyacinth. This, too, is part of our DNA."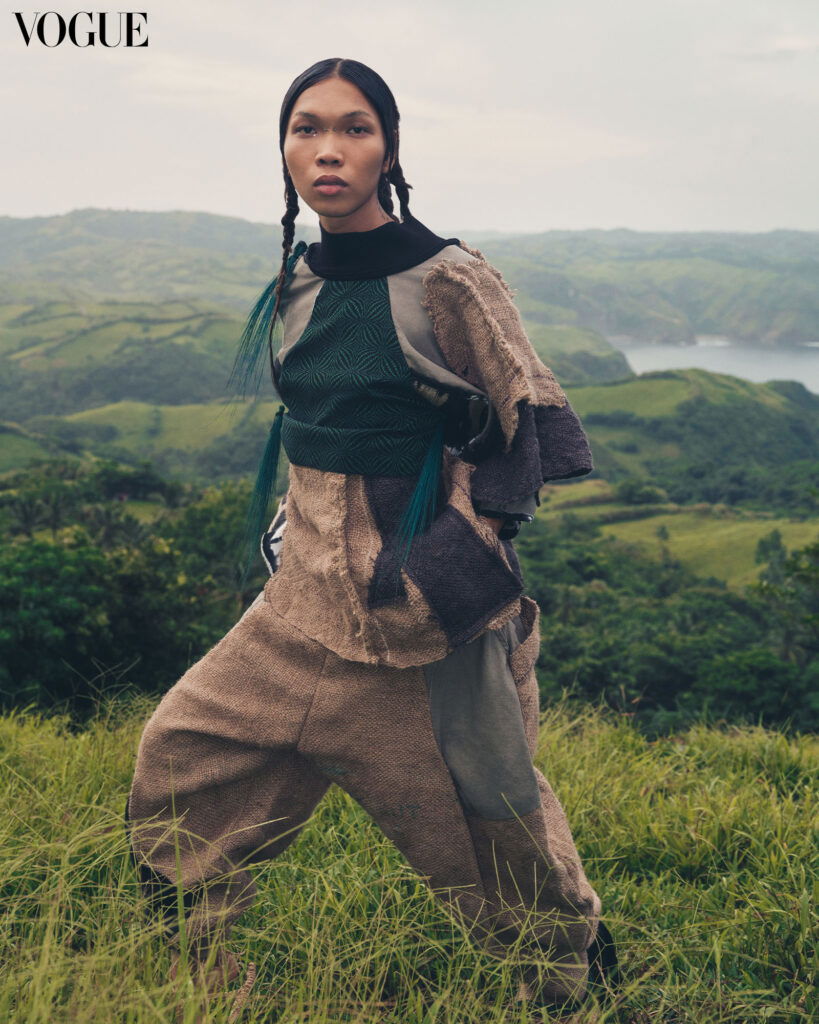 The anniversary issue assembles several Filipino designers with upcycling in their core. Featured in its pages and inside the Grand Ballroom itself as part of the exhibit are the works of Patricia Perez Eustaquio, who fabricated an outfit made of jute sacks inspired by the people of the Cordilleras; Jerome Lorico, whose twisted knit dress is weaved with local Ivatan utilitarian products; Leby Le Moria, with her handwoven basahan ensemble inspired from her family's rag business; and Neric Beltran, who uses recycled water bottles and black phalaenopsis orchids strings. 
For Vogue Philippines, these are just some of the stories behind the craftwork that fills these pages—each designer and collaborator has their own tale to tell. As they start on a strong note for another year, the fashion bible gears for another 365 days to provoke global conversations through the stories of fashion. 
Head on over to https://vogue.ph/magazine/origins-batanes-september-2023-cover/ for the full September cover story. 
Five women who are known to inspire a whole nation now inspire the whole world as they take the limelight of Vogue's front pages, showing a new standard of beauty with a life well-crafted.
"Vogue Philippines has done it again," readers pour their praises on the newest release of Vogue Philippines with 91-year-old National Scientist Dr. Dolores Ramirez on the cover and other iconic women featured. These national treasures anchored themselves on the stage and have achieved tremendous milestones with over 250 years combined. Meet the ladies who reinvented the craft issue of Vogue, crafting themselves a life well lived in the fields of Science, Arts, and Culture.
National Scientist, Dr. Dolorez Ramirez
The geneticist stands surrounded by the Gumamela Hybrid and Mussaenda Hybrid, flowers named after her — just one of the many accolades she has garnered in her lifetime. Before being named National Scientist for the Philippines, Ramirez had been the Southeast Asian Regional Center for Graduate Study and Research in Agriculture (SEARCA) Professorial Chair for Genetics, a recipient of the Gregorio Y. Zara award in basic research, and the Rizal Pro Patria award for outstanding achievement in science. She also received the UP Professorial Achievement Award in agriculture.
Author and Historian, Marian Pastor Roces
Wearing several hats as an author, historian, curator, critical thinker, and policy analyst, she has shaped Philippine culture. Over the last half-century, Marian's accomplishments span the entire nation to beyond our shores. She curated and often created, museums from the ground up, such as the Cultural Center of the Philippines' Museo ng Kaalamáng Katutubò; the Museum of Contemporary Art and Design at the College of St. Benilde; and the University of the Philippines Manila's Museum.
Chef and Restaurateur, Glenda Baretto
A celebrated chef, restaurateur, and author, she continues to create menus after over 50 years in the Philippine food industry. As the founder of one of the Philippines' most beloved dining institutions, Via Mare, she is a much admired pillar of Filipino cuisine. With decades of experience, Barretto has remained on top of the food chain, so to speak. Her abilities inside the kitchen have inspired thousands.
Heritage Advocate and Culinary Historian, Felice Prudente Sta. Maria
After 40 years, the author, heritage advocate, and culinary historian finds there's more to learn and teach. She began her career as a column writer in the 80's and turned it into a book called, A Cultural Worker's First Manual. 15 years later, she started giving out lectures, inspiring budding young leaders in their local and national areas. Next thing she knew, she started writing, co-writing, and co-editing books about heritage and food history.
Dancer and National Artist, Alice Reyes
Her talent for dance just goes on and on. She studied ballet at a young age and joined the Bayanihan Philippine National Folk Dance Company, founded Ballet Philippines, and created the Alice Reyes Dance Company. This woman has been dancing for over half a century and has rightfully earned a national recognition by transforming lives through the art of dance.
In thoroughly exploring their passions, honing their skills, and continuing to be beacons, these individuals redefined what it means to be a woman. Heroines in their own right, they educators, scholars, writers, and artists – finally on the cover of the world's fashion bible. The Philippine editorial team shows the world "true beauty with substance", as audiences say.
Read the full stories of the five ladies who launch at https://vogue.ph/lifestyle/people/dr-dolores-ramirez-continues-to-plant-the-seeds-of-tomorrow/
From a One MEGA Group Inc. (OMGI) intern in 2015 to the General Manager of DigistarPH today, at just 27, she has reached success like no other.
DigistarPH, the home of today's digital superstars and the marketing arm of AGC Power Holdings Corp. announced today its newest General Manager, Mikee Hipolito. At only 27 years old, she has cemented her repute as the youngest executive in the conglomerate, proving herself to be at par with other veterans. She says, "Looking back over the years, one thing I kept in mind is to love every learning. Learning to love every experience, every feedback, every interaction, and every challenge. I never knew that this simple, yet powerful value would give a big influence on my career – but here I am today, and I'm so grateful for this opportunity."
Career Beginnings
"I still clearly remember our interaction in 2015. The now Chairman and CEO, Archie Carrasco, asked me if I would like to work for him in the future and I said yes" — this is where it all started for Hipolito. She was just a graduating student, completing her final requirements when she interviewed her alumnus' industry experience who was working for OMGI. Little did she know, that very moment would begin the course of her career.
Hipolito trained as a multimedia artist intern for OMGI as she was earning her degree in Advertising and Public Relations. During this time, she was convinced that art was something she wanted to pursue in the long run. But as she entered the real world, she discovered her innate skill for production, management, and business that led her to work as a Project and Production Associate of Carrasco's former events agency. Hipolito brought multiple wins project after project from illustrious brands across the country.
Her talent for management couldn't get unnoticed and after three years, Carrasco offered her to be the Operations Manager of DigistarPH, landing an executive position at age 22. Now in 2023, she fills in a bigger role as General Manager of the marketing agency.
A Brighter Tomorrow
Years of being on her journey, Hipolito has faced a lot of challenges. An important value that kept her going is mindfulness. "Mindfulness is a word that is so important to me, and the funny thing is I have this tattooed on my skin. But in a bigger picture, this left a permanent mark on my ethic as an individual. Being mindful of my present moment and being honest in terms of my values and goals has helped me grow so much in this path," she states.
Hipolito is grateful to be part of the marketing industry no matter how fast-paced it gets. "Marketing is one of the backbones of every brand anywhere in the world. Imagine being gifted the capacity to influence, it's more than fulfilling," she explains. For those thinking of taking the same track as her, she says the secret is to bank on every experience and create ideas with the intention to make a mark.
As the General Manager of DigistarPH, Hipolito shares her plans moving forward. Conceived as a small marketing agency, she is dedicated to propel the company forward to be one of the top-of-mind agencies, produce meaningful campaigns that can impact our industry, and watch individuals grow their careers even further under her wing.
A fresh and invigorating era is soon to come for MEGA Drag as its newest Editor steps up to lead with an unwavering passion for the captivating stories that lie within the world of drag.
Established just a year ago, MEGA Drag has become the go-to source of all things drag in the Philippines, opening doors for limitless self-expression for the LGBTQIA+ community. Embarking on a thrilling new chapter, MEGA Drag sets its sights on a future that is more unapologetically free.
Leading charge is the remarkable new Editor, Jujiin Samonte, who proudly embodies the vibrant spirit of the queer community. "Samonte brings a wealth of experience and boundless creativity. He will undoubtedly guide MEGA Drag to new heights and ensure that our publication continues to be the ultimate source of inspiration, empowerment, and celebration for drag artists and enthusiasts everywhere," Chairman and CEO of AGC Power Holdings Corp. (AGC PHC), Archie Carrasco, states. 
The Journey
Samonte onboarded One MEGA Group Inc. (OMGI) in 2017 as Copywriter under the former Creative Services Department. His events and videography background equipped him to conceptualize brand-oriented videos and presentations for clients. Expanding his career horizon led him to return to the events industry as a Creative Director.
Right before the launch cover of MEGA Drag in 2022, Samonte received a call from OMGI VP for Content and MEGA Magazine Editor-in-Chief, Peewee Reyes-Isidro. He was invited to join the MEGA Drag team as a contributor and consultant, fitting for his famed repute in Manila's queer nightlife scene and his strong advocacy for LGBTQIA+ rights.  
His masterful storytelling and creative direction have been pivotal in shaping MEGA Drag's groundbreaking inaugural year. Cover after cover, Samonte's work has uplifted the very art of drag. And today, as MEGA Drag aims to be bigger and bolder, Samonte's sense of purpose is elevated as he assumes the responsibility to carry forward this legacy. "Drag's global surge in popularity over the years unearthed new routes for understanding, recognizing, and appreciating the art form. As a result, an increase in queer-centric talent, art, and narratives emerged, enriching the community," he shares. 
Fierce, Fabulous, and Free
In a society still grappling with diversity, Samonte makes it his mission to give a voice to the community—a voice that they truly own through MEGA Drag. He believes that power lies in the LGBTQIA+ community as their stories possess a unique point of view with continuous self-discovery and profound resilience.
Under Samonte's leadership, MEGA Drag will uplift and honor the full spectrum of drag. He says, "[The title is here to] embrace this art form and the many aspects of the rainbow community to inspire joy, encourage inclusivity, and celebrate the many expressions of individuality."
MEGA Drag will throw light on the extraordinary world of drag to capture the essence, the allure of fantasy, the innovation in fashion, and the heart that brings about the sense of living fiercely, fabulous, and free.
Head on over to https://mega-onemega.com/mega-drag/ to read stories about the queer community and the beauty of transformation.  
In preparation for its approaching Philippine debut, the authoritative music platform introduces some of its main key players.
Manila, Philippines – Billboard, a music industry institution that provides music charts, news, reviews, events, and style, has returned to the Philippines, but now operates under the direction of Modern Media Group Inc. (MMGI) through AGC Power Holdings. Leading the team will be industry movers and seasoned producers with a shared objective of connecting Filipino music not only locally, but globally. Billboard Philippines hopes to be the leading source of constructive and collaborative change in the Philippine industry and among music enthusiasts by publishing meaningful content that champions inclusivity, diversity, and global collaboration that will allow the discovery and rediscovery of music by Filipinos for Filipinos.
With these missions in mind, Billboard Philippines announces four extraordinary individuals who will bring these tasks to fruition and strengthen the power of OPM:
Bret Jackson, Editor-in-Chief
Bret has always felt a strong connection to music. He was co-founder of independent record label Paraisla and the production house 7640. He has lived as an artist, producer, an entrepreneur, and an enthusiast, with everything in between. A guaranteed tastemaker in music, he takes his next leap as the Editor-in-Chief (EIC) of Billboard Philippines.
Bret relocated from America to Dumaguete when he was 13 years old. A pinoy through and through with a passion for music, he explored OPM and collaborated with artists not just from the Metro, but also from different regions, where he witnessed firsthand the enormous potential of Filipino musicians. "Hearing their stories really instilled in me a relentless feeling to want to do more for the people and places I loved. This led to becoming a full-time student of the Filipino music industry," he narrates.
As EIC, he reveals that the title's primary objective is to be unbiased and to celebrate Filipino music in all its forms – every island and Filipino creating waves in the Philippines and around the world will be featured. For Bret, it's a matter of rising above the noise and providing an avenue for talent where Filipino music can reach its full potential. He will ensure that Billboard Philippines serves as a bridge not only for musicians, but also for brands, executives, and businesses.
Francis Reyes, Editor-At-Large
Musician, writer, and host Francis Reyes has joined Billboard Philippines as Editor-at-Large. Francis, a staple in the OPM industry, is not only recognized for his booming voice as one of the pioneering radio jocks for then-Philippine rock radio station NU107, but he's also a phenomenal guitarist for the iconic Filipino rock band The Dawn. One can truly say that music is deeply ingrained in his DNA. Francis will be one of the storytellers for Billboard Philippines. He shares, "The Philippine music landscape is healthy and diverse, encompassing countless scenes, communities, tastes, and perspectives. Billboard Philippines will hopefully be able to reflect, report, and create a roadmap of sorts for all audiences — local and international — as a resource. It won't be easy, but we are excited to take on the challenges and help celebrate the triumphs of Philippine music."
Paolo Valenciano, Executive Producer
One of the most in-demand concert and event directors, Paolo Valenciano comes in as the Executive Producer for Billboard Philippines. He is notable for directing such successful concerts for OPM titans like Bamboo, Eraserheads, Sarah Geronimo, Regine Velasquez, Sharon Cuneta, and more. Paolo and Billboard Philippines will take OPM music visually to new heights. His eagerness to take risks allows him to push boundaries on what can be done both onstage and off. He shares, "I am so thrilled to be a part of such an iconic brand like Billboard. I've always believed that our local acts deserve to be on a global stage and this new era of Billboard Philippines will give our artists even more opportunities to be seen and heard."
Anton Molina, Podcast Producer
Anton Molina, who has over a decade of experience as a radio jock and years of expertise as an audio production head, will be in charge of podcast creation for Billboard Philippines. With his radio expertise as a talent and production member, he is more than capable of ensuring that Filipino musicians can connect with their music and life stories with audiences all over the world. "I envision the brand to be a home for the latest in the local music stage and to be a place wherein a lot of fans discover artists or rediscover their love for other artists," he says.
Billboard Philippines is set to have its formal launch on October 2023.
After opening a bigger office, onboarding industry veterans, and establishing more subsidiaries, AGC Power Holdings Corp. (AGC PHC) continues to expand its horizons with a new creative space unveiled.
AGC PHC's commitment to innovation and excellence has reached yet another milestone. With great excitement, the media conglomerate proudly welcomes a new studio into its ever-expanding repertoire – another step to success this year. Located at 6F West Wing Estancia Offices, just in conjunction with the AGC PHC headquarters, the studio will cater to the growing brands of the company.
Chairman and CEO Archie Carrasco said, "Exciting times are ahead because we are growing at an unprecedented pace. AGC PHC just recently introduced Billboard Philippines and will soon welcome more remarkable titles. Now more than ever, we need a space to serve all our existing and upcoming subsidiaries. More importantly, it is for our employees to have a home for creativity. The studio becomes a sanctuary where their ideas can take flight, fostering a culture that values and celebrates their artistic expressions."
Whether it's showcasing the latest fashion collections, launching new product lines, or crafting compelling brand narratives, AGC PHC's studio offers the ideal setting to create impactful visuals.
As this vibrant hub comes to life, AGC PHC can elevate its visual storytelling to new heights. Its esteemed publishing titles such as Vogue Philippines, MEGA Magazine, and Nylon Manila can now have a prime location for their cutting-edge editorial shoots. Additionally, production companies DigistarPH, KLIQ, and 7640 Inc. will find AGC PHC's studio to be a game-changer for their campaigns. Aside from these dedicated purposes, the studio also welcomes events and gatherings of various subsidiaries, providing a versatile and inviting venue for a wide range of occasions.
But beyond it all, the studio will serve as a collaborative space where creatives can come together to ideate, strategize, and execute stories that pave the way for new standards. With the limitless possibilities of this creative space, AGC PHC sets the stage for a new era.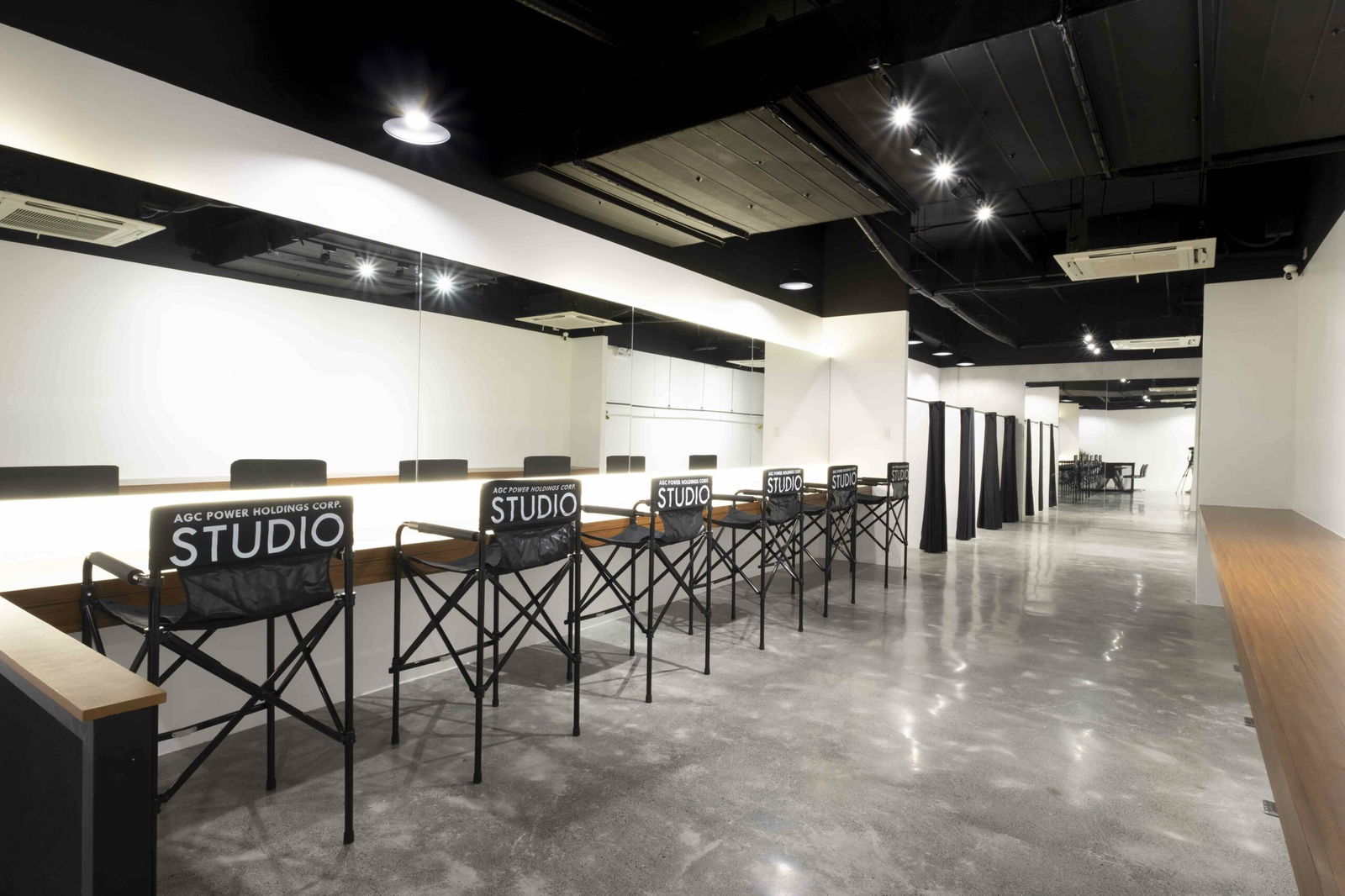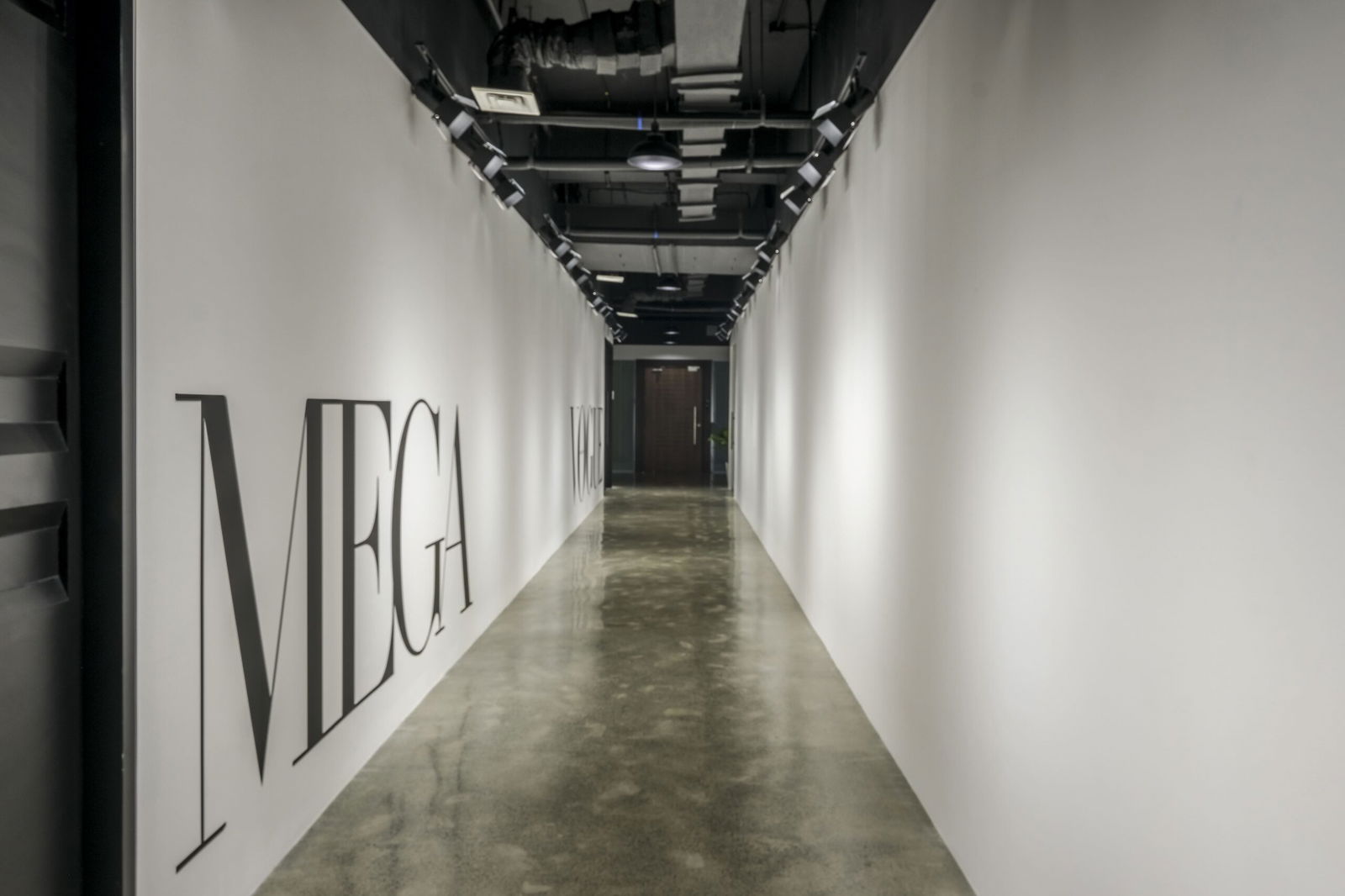 AGC Power Holdings Corp. (AGC PHC) debuts its inaugural physical store offering an extensive collection of renowned titles including Vogue Philippines, MEGA Magazine, Nylon Manila, and more.
Chairman and CEO of AGC PHC Archie Carrasco makes the announcement of SariSari.Shopping's pioneering pop-up store at Lower Ground, Estancia Mall, Pasig City. Known as the e-commerce counterpart of the conglomerate that initially ventured into digital commerce, SariSari.Shopping now enters a new and bigger chapter.
"This endeavor marks a significant milestone in our journey, as it expands our ecosystem by finally embarking into retail. AGC PHC started with publishing, stepped into media, marketing, music, and production — but now, we are happy to explore retail with SariSari.Shopping," Carrasco states with excitement. Additionally, he emphasizes that this initiative will improve convenience for AGC PHC's market of readers, guaranteeing visibility and easy access to its growing list of print titles, which will be readily available for purchase.
Print has long been a dying art, but AGC PHC is the first in the industry to strive for its rightful comeback in the age of digital. "It's 2023 and we all know that the internet is taking over, but the beauty of reading through the tangible pages of a magazine is something that we want to protect and re-introduce to this generation. We can't say that print is dead because the demand for our physical copies from customers speaks volumes. The next step is really up to the industry and those who have the capacity to bring it back to life. And that's why we are humbly here today," Head of Global Circulations, Arriane Sanchez, says.
Through SariSari.Shopping, AGC PHC proudly champions the revival of print, breathing new life into the world of publishing. Just at the early stages of its action plan, Carrasco says, "This marks the first of the 200 pop-up stores we have planned to launch nationwide in the coming year".
Customers may now purchase physical copies of One MEGA Group Inc. with MEGA, MEGA Man, MEGA Entertainment, Lifestyle Asia, BluPrint, and Modern Parenting; MEGA Global Licensing Inc. with Vogue Philippines, and Modern Media Group Inc. with Nylon Manila and soon, Billboard Philippines.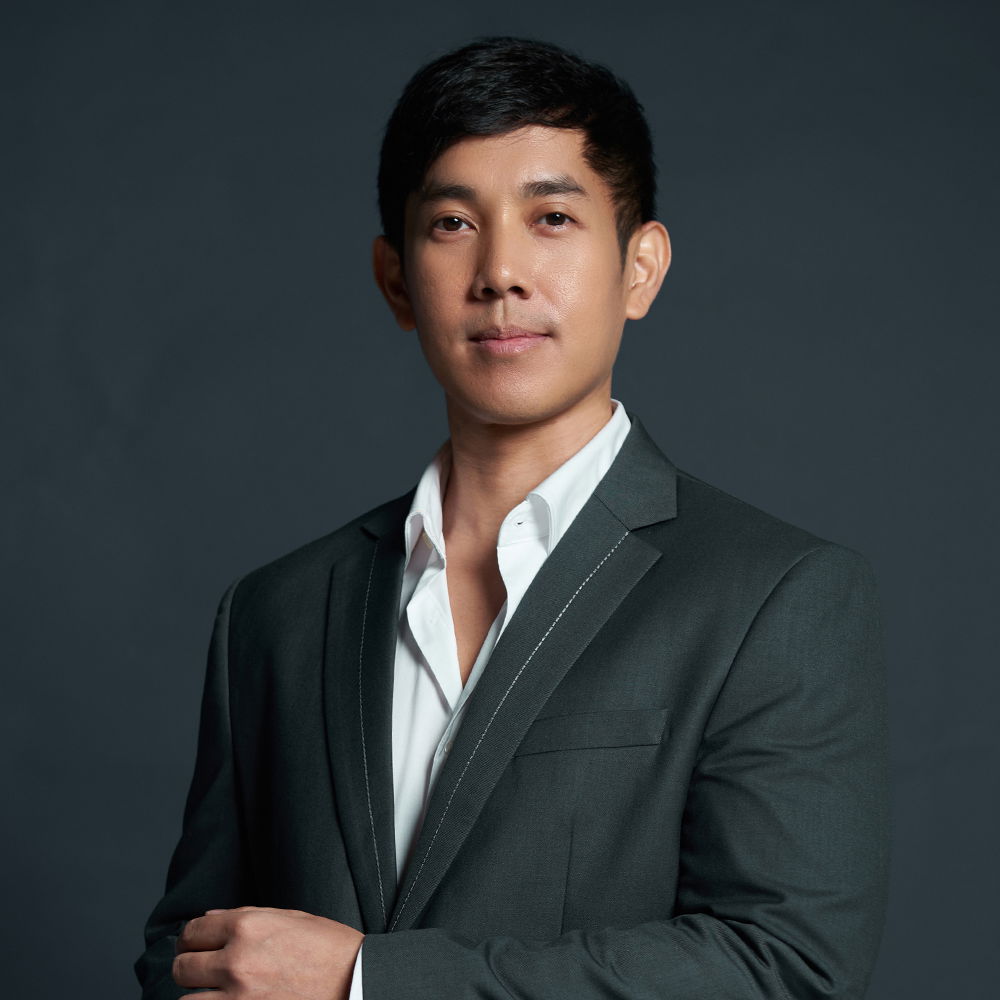 News
Shylock Casasola Brings His Expertise to Mega Global Licensing Inc. As Head of Publishing And Marketing
2 June 2023
The fastest-growing international media licensing in the country has taken a step to further grow its expanding team with the addition of an industry veteran bringing in a wealth of experience.
Mega Global Licensing Inc. (MGLI), the home of Vogue Philippines and many other international titles in the works has named Shylock Casasola as its new Head of Publishing and Marketing. Archie Carrasco, the Chairman and CEO of MGLI's parent organization, AGC Power Holdings Corp. (AGC PHC) said, "With his decades of experience, international exposure, and proven track record in management from J.P. Morgan Chase, I am confident that Casasola will bring fresh perspectives, innovative ideas, and invaluable leadership to our company. His dedication, creativity, and strategic thinking will undoubtedly contribute to our continued growth and success."
While Casasola's path has mostly been about training, project management, and event management, his true passion draws back to storytelling and creating engaging content. He brings his background as the Assistant Vice President of Business Integration for J.P. Morgan Chase to the publishing industry.
His long-standing career enabled him to develop a range of skills that will be essential to MGLI and its global titles. Casasola is well-versed in ensuring projects are on time and within budget, implementing training programs to be at par with best practices, and working collaboratively with cross-functional teams and external partners. He explained, "Overall, even if my background is somewhat different from the traditional path to publishing and marketing, I believe that my skills and experience make me ready for this role. I am excited to bring my unique perspective to this industry and contribute to the success of MGLI and AGC PHC."
"As I learned more about the publishing and marketing industry, I became increasingly interested in how companies can use content to connect with their audience and achieve their business goals," Casasola shared.
Casasola envisions his team as a driving force to keep MGLI competitive and relevant. He will spearhead the implementation of emerging trends and opportunities to create exciting new content. "I aim to foster creativity among our team members, encouraging them to experiment with new ideas and techniques to stay ahead of the curve," he shared.
Indeed, all of these strategies point to a stronger culture of collaboration and innovation. With a renewed focus at the forefront, the future of media looks bright — and MGLI is poised to continue leading the way.
An exceptional marketer joins the ever-expanding ecosystem to propel new and exciting content that will rise above the noise.
In an industry with an overwhelming amount of stories shared, it gets challenging for audiences to filter through the space. What usually cuts through instantly are those that thrive on quick clicks and trendy content. But to create meaningful content anchored on the same values, quality, and deep thinking is another thing. This is where the new AVP for Marketing Communications of AGC Power Holdings Corp. (AGC PHC) enters — brand strategist and seasoned entrepreneur, Victoria Herrera.
She started her media career as a contributing freelance writer at 16 years old to the now defunct Meg Magazine under One MEGA Group Inc. (OMGI). "OMGI gave me my first opportunities in media — so I am pretty convinced that it's fate that 20 years later, I'm now working in this company. It's a full circle moment for me," she narrated.
Since then, Herrera has carved her journey in several aspects of the industry from creatives to business. Now leading a new path in the publishing world, she noted, "My vision for the Philippine magazine industry is that it becomes a thriving place for quality content that enriches people's minds, hearts, and souls." Herrera said, "It is our responsibility to provide messages that add positively, whether it is beauty, fashion, art, culture, sports, business, and heritage." She added, "We want to create loyal communities and readership around our brands. I believe in the power of quality content coupled with building rich communities that champion our values. "
With AGC PHC's growing pool of prestige titles, now 14 magazines and counting, Hererra's strategy is all about creating tailored tactics that support each brand identity and target market. "Strengthening our relationships to media platforms in the market and understanding how every platform works is key," she stated. Most importantly, grasping a wider perspective of how the entire ecosystem can work more efficiently with all brands hand in hand is an essential for Herrera.
AGC PHC's lineup of magazines catch the perfect mix of media — some hold traditional authoritative honor and some set a voice for today's generation. For Herrera, this blend of old and new equips the ecosystem to explore not just one aspect of media, but create a whole new and total experience. "Right now, I can see the opportunities in creating engaging brand engagements that connect online touch points to offline experiences. It's not one strategy, but more of creating a culture of becoming obsessed with knowing our audiences." she explained.
The conglomerate also carries with it a legacy that Herrera wishes to continue — a legacy that has a weight of trust and integrity, a legacy that influences every decade's cultural conversation. "Communicating the history and heritage of our own legacy brands to our audiences through new media brand experiences would be an interesting opportunity for us to take. There is a certain level of respect and honor when you know that something has stood the test of time, with deep thought put into the creation of the work," she stated.
Beneath it all, Herrera's goals all lead back to paying forward and growing the industry. She wants to inspire the industry's next generation and help them realize their own dreams too. "I learned that creativity is about co-creating in a community with a shared vision and lifting others up," she said. As the new AVP for AGC PHC's Marketing Communications, Herrera makes it her mission to raise an environment of creativity that comes with a purpose. More than just marketing a brand and putting it out there for an audience, marketing for her is about growing a meaningful culture and community, and most importantly, passing on a legacy.
The title launches its June cover star for pride month — Hawaiian-based Filipino social media sensation and his colorful journey.
Groundbreaking firsts for Vogue Philippines and Bretman Rock. Vogue Philippines features its first-ever LGBTQIA+ front-page personality and Bretman Rock takes hold of his first-ever Vogue cover. Captured in his most free-spirited self, Bretman Rock unleashes his story towards authentic self-expression of being nonbinary and being in touch with his true self as he reconnects to his roots. 
The title immerses the 24-year-old Bretman in the enchanting realm of Siquijor, where he finds solace and serenity. While it is hours away from his hometown in Cagayan, he feels emotionally rekindled. He said, "I'm so glad we went [to Siquijor], that we did a destination shoot because the trip became spiritual for me, almost like the start of an awakening for me and I've always kind of considered myself a very spiritual person. I've always felt very spiritually guided and that's the first time in my life where I felt like my ancestors, rooting me on, cheering me, welcoming me home."
In the headlining piece, Vogue Philippines explores his coming of age from being a little bakla (his favored Filipino term when identifying himself as a gay person) to being nonbinary in full detail. He stated, "I'm too delusional. I'm in my own world, call me whatever you want. That's why I go by all the genders… Girl, I'm Bretman. I'm not a woman, I'm not a man," Bretman says. "In the Philippines, we call everybody 'Ma'am/Sir.' I call everything 'girl,' even when I refer to my dad… 'I miss my girl.' At the end of the day, the person that needs to know who you are is you and the people that you love."
The cover has reached praise and applause on social media, hitting another iconic feat for Vogue Philippines. From messages of admiration to expressions of support, the community and its allies embraced this powerful symbol of representation.
After the reveal, Bretman also turned to his Instagram account, pouring out his emotions. He shared that gracing the pages of Vogue had been a cherished dream of his, especially as a minority queer Asian who doesn't get a lot of opportunities like this. "It's such a big deal, it's truly a big deal and I really wish, I hope that every brown queer kid gets to have their own Vogue cover one day cause every queer kid deserves to feel like this," he narrated.
Bretman raises the flag for the community — to those currently struggling, to those harnessing courage, and to those discovering themselves. He expressed his gratefulness to Vogue Philippines for creating a platform for Filipinos and aspires for a future where individuals like him could also bask in the spotlight of such prestigious magazine covers.
Head on over to https://vogue.ph/magazine/bretman-rock-cover/ to read the full cover story.