AGC Power Holdings Corp. (AGC PHC) celebrated its flourishing success by recognizing the top employees of the year. It also gave a spotlight to the most loyal individuals and the most outstanding department in the ecosystem.
Alluring greenery and lush foliage welcomed AGC PHC employees for the 5th Ten Outstanding Employees of the Year (TOEY) Awards last April 25 at Chardonnay by Astoria, Pasig City. A big LED screen with an immersive display of waterfalls captivated over 200 attendees wearing the colors of nature.
This seemingly vibrant oasis meant something more for AGC PHC. The growing nature echoed the company's journey over the past year. From opening its new headquarters to onboarding the most sought-after journalists, and introducing the biggest titles under its belt, AGC PHC bloomed like never before. And the root of it all, are the employees who defined what it truly means to grow together.
"Growing together means understanding and embracing the unique strengths and talents each of us brings to the table. It means cultivating a culture of collaboration, where we share ideas, tackle challenges, and celebrate each other's successes," Chairman and CEO of AGC PHC Archie Carrasco shared in his opening speech. He added, "Success is not only determined by what we achieve individually but by what we accomplish together as a team." In this light, he gave the stage to employees who contributed tirelessly to the whole company's achievements.
Prospering Awardees Of The Year
Fresh talent and seasoned expertise were the stars of this year's TOEY. With a plethora of outstanding achievements and inspiring anecdotes shared, all employees came in unison to applaud the well-deserving winners.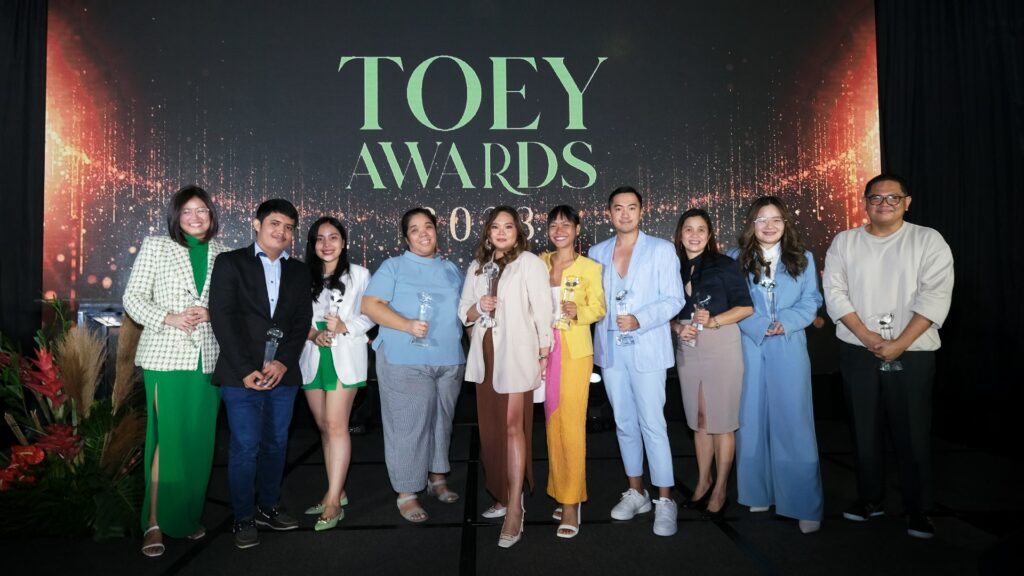 Vannie Orpilla of Human Resources, AGC PHC
Throughout the year, she has exhibited exceptional leadership and initiative as HR Supervisor. She spearheaded the recruitment process and introduced a new approach that streamlined the company's hiring, making it more efficient and effective than ever. She willingly takes on extra responsibilities with a positive attitude and can-do spirit.
Jomer Calleja of IT, AGC PHC
Hailing from the IT Department, he has made outstanding contributions in technological support for the company. He has demonstrated unmatched dedication to his role. He consistently goes the extra mile to ensure the smooth operation of his department by furthering his craft and exploring smart operations, reflecting his passion and commitment to professional growth.
Krystin Sison of Advertising, OMGI
A new yet passionate Account Manager, she has exemplified grit and perseverance. She consistently achieves 100% of her goals and has gained the highest sales volume among all her colleagues. With a tenure of less than a year and having to finish her studies alongside her budding career, she has yielded results that exceeded expectations — a testament to the possibilities one can do.
Alexa Villano of Modern Parenting, OMGI
A skilled writer of Modern Parenting, she is applauded for not just being a top performer within her brand, but also earning the highest page view contributor in the entire One MEGA Group, amassing soaring page views since 2022. Her captivating storytelling abilities and responsiveness to current events contributed to content that has become a go-to source for readers.
Moi Busto of Advertising, OMGI
Winning a TOEY Award for the past four years, this year, she earns the highest level of excellence — the Hall of Fame. Faced with limited resources and manpower, she rose to the challenge as Head of Business Development, leading her team to surpass the previous year's sales, while always supporting the management's direction. She represents inspiration, hope, and a reminder that greatness is achievable.
Mikee Hipolito of DigistarPH
The youngest executive in the ecosystem, she leads one of the company's subsidiaries, proving age is no barrier to leadership. Under her guidance, her team has adeptly handled a diverse range of international brands, making her subsidiary truly exceptional among all non-media companies in the ecosystem—a testament to this awardee's remarkable leadership.
Jann Pascua of Vogue Philippines, MGLI
A true master of the arts, he has skillfully crafted Vogue Philippines' visual identity in his role as Art Director. He is behind the brand's covers that are gaining global attention, setting a new standard for art direction in the country. His technical expertise isn't his only standout quality. He's a true team player, always ready to assist and exceed expectations to achieve the team's goals.
Espilita Buenaobra of Finance, AGC PHC
An unsung hero who has been with the company for eight years, her work in the Finance Department guarantees a positive cash flow for daily operations. Her impressive leadership skills enable her to handle even the most challenging monetary problems. What sets her apart is her extraordinary leadership style, inspiring and motivating her team to achieve remarkable results.
Thea So of Executive Office, AGC PHC
An Executive Assistant serving both the CEO and COO office, she exceptionally speaks to her skills and dedication. She has also stepped up and assumed a double role during the company's vital expansion project. Her leadership and initiative became immeasurable and have propelled inspiration for all, receiving the most nominations for the TOEY Awards.
Jacs Sampayan of Vogue Philippines, MGLI
His pursuit of excellence, passion for his craft, and dedication to his team make him genuinely exceptional. As the Managing Editor of Vogue Philippines, he's devoted to perfecting editorial content and guiding colleagues with unwavering commitment and unparalleled excellence. His hard work, tireless efforts, and boundless creativity have contributed to Vogue Philippines becoming a highly esteemed edition.
Apart from the top employees of the year, a special segment was also held to honor individuals who have shown loyalty to the company over the years. AGC PHC also recognized its longest-serving employees:
5-Year Service Awardees
Kieran Punay, KLIQ Inc.
Andrew Ciudad, AGC Power Holdings Corp.
Gie Baril, AGC Power Holdings Corp.
Marc Pagdilao, One MEGA Group Inc.
Elyse Ilagan, Nylon Manila
Lyn Alumno, Nylon Manila
Janine Recto, One MEGA Group Inc.
Cecile Ngo, AGC Power Holdings Corp.
10-Year Service Awardees
Angelo De Cartagena, MEGA Global Licensing Inc.
Moi Busto, One MEGA Group Inc.
Arriane Sanchez, AGC Power Holdings Corp.
15-Year Service Awardees
Edward Simon, KLIQ Inc.
Suki Salvador, MEGA Global Licensing Inc.
Archie Carrasco, AGC Power Holdings Corp.
20-Year Service Awardees
Eric Gallego, One MEGA Group Inc.
Peewee Reyes-Isidro, One MEGA Group Inc.
From the TOEY awardees, AGC PHC names its first TODY recipient ever — or the Top Outstanding Department of the Year. Among all subsidiaries, Vogue Philippines wins the title because of its invaluable contribution to the industry.
Its exceptional team has made a significant contribution to the business and media reach with the Apo Whang-Od cover, reaching new heights of worldwide success. The team's efforts resulted in impressive success, solidifying Vogue Philippines' position as one of the country's leading media brands.
To A Sustainable Future
For AGC PHC, growing together does not stop here. Carrasco encourages all employees to remember the true spirit of the company's growth — creating a long-term impact on the audience it serves. Growing is all about being able to cultivate success and plant new seeds of opportunities as time goes by.
With more plans ahead of its expansion, AGC PHC is thrilled to share its next steps that will change the Philippine multimedia industry in the coming months. As Carrasco said, "Let us challenge ourselves to think bigger, reach higher, and work harder. I am confident that, by growing together, we will continue to reach new heights and achieve even greater success."