The Company celebrated the opening of its new headquarters in Estancia, putting down roots and ushering in the next stage of its growth.
From outside, the first thing you notice is light. The office is enveloped in natural light where the windows let light through, giving the white walls a soft, diffused golden glow and emphasizing the sheen of the indoor plants carefully placed around the premises.
For the areas away from the windows, installed lighting fixtures mimic the warmth and the brightness of the sun, transitioning smoothly to maintain the look and feel of an open, welcoming space filled with natural light.

The light is but one of the many things you will notice when you first enter the new headquarters of AGC Power Holdings Corp. (AGC PHC). The holding company, which houses some of the Philippines' most recognizable local and international titles in media and publishing today, officially opened the doors to its headquarters on Wednesday, February 1.

Located on the sixth floor of the Estancia Offices West Wing in Pasig City, the headquarters serves as AGC PHC's first true home following the travails brought about by the COVID-19 pandemic.
From Homeless to Hopeful
AGC PHC was in its infancy when the COVID-19 pandemic caused economic shutdowns in March 2020. The company was still reeling from the loss of One MEGA Group Inc. (OMGI) founder and AGC PHC Chairman and CEO Archie G. Carrasco's mentor Sari V. Yap a few months prior when it found itself having to deal with the business repercussions of a global health crisis.

"In order to keep afloat during the pandemic without sacrificing the welfare of our people, we had to give up the space that has served as OMGI's home for almost 27 years," recalls Carrasco. The company moved to a smaller office and operated on a skeletal workforce to regain its footing.

Through Carrasco's ability to pivot during a crisis and his instinct to identify opportunities ahead of the pack, he was able to navigate the post-pandemic market successfully–all without letting go of what he considers to be AGC PHC's greatest asset: its people.

Two years later, AGC PHC has recovered from the impact of the pandemic, steadily growing and diversifying its media brands and solutions. The company is now ready to put down roots in its first true home.

"Being able to craft this workspace means more than just having a beautiful place of business," shares Carrasco. "Our headquarters represents a new beginning for AGC PHC employees and our subsidiaries alike. After being in survival mode for the last two years, we're finally in a place where we can provide a comfortable space for our employees that's truly ours–where we can all come in and say 'This is our home.'"
Designed with Intention
AGC PHC's headquarters was a collaborative effort between Carrasco, whose vision gave direction to the design and layout of the office, and Arch. RJ Zurita, who designed the space and oversaw its construction.

"Just as with everything that we do, this office was carefully and thoughtfully designed with purpose. We want the space to be fun, to inspire creativity, to evoke the positive energy that we try to keep flowing among our teams–all while being functional," says Carrasco.

This design kept in mind the majority population of AGC PHC's ecosystem, with Gen Z comprising almost 90% of the workforce.

"Our company is very young–you can see it from our population. We have a long future ahead of us filled with opportunity as to where the company could and will go," Carrasco points out. "Our space was designed specifically for this younger generation, and with the needs of a growing organization in mind."

Indeed, the headquarters was built out with fun and functionality in mind. It combines traditional office desk space areas with "third spaces"–casual seating areas that are found in co-working spaces.
"The initial concept we came up with during the early stages of planning was the concept of agile space," narrates Zurita. "To encourage collaboration, we want employees to be able to choose where they want to work, whether it's a free-seating area in one of our lounges, a desk in one of our workstations, or the pantry."

The 900 square-meter office features an open layout, with glass partitions to maintain that open look and feel across the office. Crisp white walls change warmth throughout the day as the natural light shifts and warm artificial light takes over in the evening. Fresh indoor plants and wooden panels add a touch of nature to the space.
The more formal office setup includes the executive offices for the CEO and the COO; eight executive rooms; two boardrooms with a movable divider to easily accommodate larger meetings; multiple one-on-one huddle rooms; and designated areas for each company department for everyday reporting.
The third spaces include multiple lounge areas such as the Tree Lounge, a reading nook, and a 50-seating capacity lounge with bean bags and multiple seating options. These spaces are created for cafe meetings and serve as a workspace for employees who are more productive in a casual setting.

AGC PHC remains on a hybrid work setup, with subsidiaries each having their dedicated day to use the designated areas of the office. The lounges provide free seating for employees who come to the office outside of their schedule.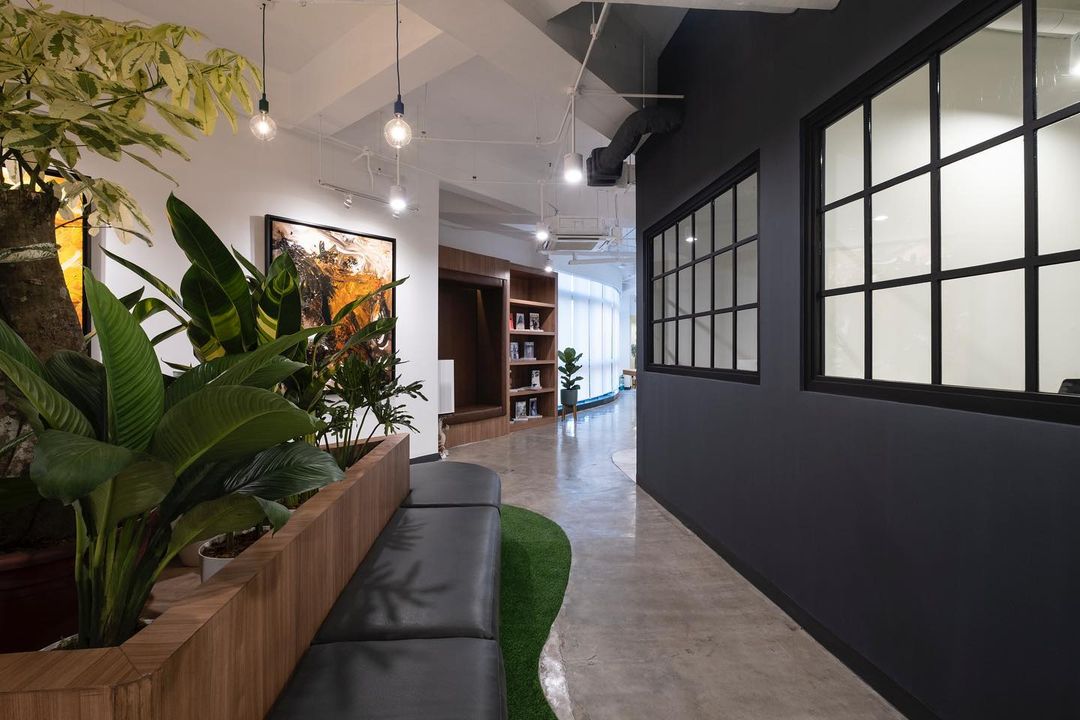 Throughout the office, AGC PHC's magazine titles are showcased, either as print copies on display shelves or flashed onto the LED screens lining the main lounge area.
The office also features a beautiful pantry with an updated version of AGC PHC's neon "Good Vibes Only" sign. This space converts into a bar and a chillout spot for employees to relax in after work.
Carrasco's personal collection and commissioned artworks from Filipino Abstract Painter, Kenneth Montegrande. His paintings are created in an abstract expressionist style to spark happiness, faith, love, and the personal mantra of the Chairman himself, "Good Vibes". While it doesn't take any concrete form, Montegrande says that every color and brush stroke depicts a story. "When looking at the paintings, it may seem unruly at first, but every detail has a purpose that leads to a bigger, more beautiful picture." Similar to every subsidiary at AGC PHC, every masterpiece produced is also made from different strokes that all work together. Imperfect perfections, is what he calls it — the very masterpiece that will inspire us to see our purpose every time we step into our new home.
Home for the Next Five Years
While the new headquarters is AGC PHC's first move to put roots down, it is not the last. In fact, the newly-opened office is just the company's first step towards a more permanent home. 
"This beautiful office is only a stopover to the permanent home that is currently under construction," reveals Carrasco. "The office will be five times as big as our current headquarters–an ample space to accommodate our projected growth in the coming years. We are expecting construction to be completed in five years' time." 

AGC PHC's new headquarters isn't just a sign of a new beginning for its employees and its subsidiaries, but also a beacon of hope for the media and publishing industry in general. Carrasco hopes that through the recovery and rise of AGC PHC, he can uplift the industry as a whole by generating public interest in intelligent, inspiring and intentional storytelling, impactful imagery, and a strong focus on the Filipino as a global standard for excellence. 

"This new milestone in our organization is a strong sign that media and publishing is on the rise again," declares Carrasco. "The industry has been in the shade of the sunset for a long time. Now it's time for the sun to rise and shine once more on the media and publishing industry." 

As AGC PHC grows, we are always on the lookout for the best talent. We invite you to be part of our journey to be ambassadors of Filipino excellence and to join our family as we continue to expand. Visit the AGC PHC Careers page to view our full list of openings today. 
The seasoned journalist plans to elevate the Philippine entertainment industry through MEGA Entertainment
MJ Marfori's name can be considered synonymous with entertainment, having been in the industry for 12 years as a journalist, talk show and radio host. Now Marfori adds Editor to her roster of roles as MEGA Entertainment announces her appointment as its new Editor.
"MJ Marfori is a multi-hyphenate. She is a seasoned talk show and radio host and an experienced journalist in the world of entertainment. She is a natural born storyteller and has a unique point of view," MEGA Magazine Editor-in-Chief Peewee Reyes-Isidro states in MEGA Entertainment's official release. "She is driven with a sense of purpose, and that is to inform, entertain, give meaningful insights to her audience, and elevate the art of serving entertainment."
Elevating Filipino Entertainment
Marfori's entrance to MEGA Entertainment as its Editor comes at a perfect time, when the entire MEGAVerse is shifting its focus to telling insightful stories with a purpose–and MEGA Entertainment seeks to do that through aspirational and inspirational celebrity stories.
"MJ's extensive experience in entertainment gives her a unique insider's perspective into the industry. Combined with her natural ability to find and tell engaging stories, MJ is perfectly poised to transform MEGA Entertainment and elevate the stories we tell about Filipino entertainers and celebrities," says AGC Power Holdings Corp. chairman and One MEGA Group Inc. CEO Archie G. Carrasco. "I'm excited to welcome her to the MEGAVerse and to see how she will bring to life our shared passion for promoting and advocating for the Filipino entertainment industry with celebrity stories that uplift, entertain, and highlight Filipino talent–stories that echo purpose."
Having had high regard for the MEGA brand since her early days as a journalist, Marfori decided to take on the Editor role without batting an eyelash. "I decided to take the Editor role because this platform is the perfect avenue to intertwine entertainment stories from here and abroad, and have the Philippines at the forefront of what is happening in the industry, may it be the ins and outs of it," she says.
An Evolving Entertainment Landscape
Throughout her years as a journalist, Marfori has seen the Philippine entertainment landscape change drastically–from waiting for Sunday showbiz shows to get celebrity stories to getting real-time updates on social media. "The stories are now fleeting and many have moved on from the subject in a day or two. It is because the mystique of celebrity milestones are dwindling by these new antics," Marfori notes. "Only a number of personalities now know the sweet spot of sharing but not oversharing and make their market value still high."
On another note, Marfori sees that Philippine entertainment is set to take the world–and she has her eyes firmly set on shining the spotlight on Filipino talent in the global entertainment scene. "It may be slow, but we are continuously and with much effort stepping inside the global entertainment sphere with our tremendous talents from all over the world, on and off camera," she says.
Entertainment Shaping Filipino Culture
Under Marfori's tutelage, MEGA Entertainment is set to bridge the gap between local and global entertainment by keeping Filipinos in the loop on what's happening around the world. "We capture the greatness of our Filipino talents to amplify and share with the world what we have here as well," she states.
Marfori also plans to bring the platform closer to the people who keep the entertainment industry alive and thriving: the fans. Marfori also plans to bring the platform closer to the people who keep the entertainment industry alive and thriving: the fans.
"I plan to take MEGA Entertainment closer to the hardcore showbiz fans, from the KPop stans to the true blue cinephiles, and create a community to keep the conversations going about entertainment that shapes a major part of our Filipino culture," Marfori declares.
Marfori is looking forward to learning more about the MEGAVerse as MEGA Entertainment's new editor, having a new format to talk to artists and actors and sharing these stories with the audience of MEGA.